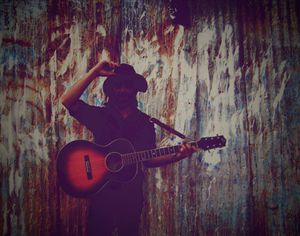 Zephaniah Stringfield's Bio
Taos News Article and Interview by Ariana Kramer
Winner of 2023 New Mexico Music Awards in Folk category for song, "How Quickly It's All Gone Away"
Winner of 2021 New Mexico Music Awards in Bluegrass category for song, "Logan Harvey"
"Ipse Dixit," full length album released 2020, produced by Zephaniah Stringfield and Peter Oviatt Recorded at Moonflower Sounds in Taos, NM 
"Stick To Nowhere," full length album released 2019, produced by Mike West (Shawn Mullins, Split Lip Rayfield, Truckstop Honeymoon) Recorded at The Snake Farm in Taos, NM 
Winner of the 2016 Walnut Valley Festival New Song Showcase for song "Going to North Carolina" 
2016 Semi-Finalist in International Songwriting Competition for song "Going to North Carolina" 
"The Book Of Zephaniah," full length album released 2016, produced by Mike West (Shawn Mullins, Split Lip Rayfield, Truckstop Honeymoon) Recorded at 9th Ward Pickin' Parlor in Lawrence, KS 
"Not a passive experience but more a journey alongside the artist" -Utne Reader, Topeka, KS 
Zephaniah Stringfield is the name his mama gave him. From his Baba he was given his first guitar at age 12 and has carried one on his back ever since, centered in a perpetual singalong. After fleeing the San Francisco Bay Area at 17 to confront a life of spontaneous song-seeking in all corners of the United States, he found his soul's home in Taos, New Mexico. He has honed his technical guitar skills to various elements of the Americana spectrum, blending a decade of mastery of blues, bluegrass, folk, country, and rock 'n roll into music both hauntingly familiar, yet unprecedented in its ability to cut deep gently. In solo performance or in collaboration with the multitude of talent Taos has to offer, Zephaniah is a loving spectacle, radiating the curious wonder of the human experience, life before death, the birth of a new masculinity both tender and thorny, and the warmth of sheltering from hard times together. Collaborators include members of the bluegrass band Foggy Memory Boys, his outlaw country project The Spud Gun Bandits, and Peter Oviatt, creator of Moonflower Sounds recording studio, who provides instrumentals and harmony vocals in live performance and recordings, and co-produced Zephaniah's newest album, Ipse Dixit. 
If you ever get the urge to get in your car and take off without a plan, Zephaniah's voice is your ideal traveling companion. If your date didn't show at the bar, and you need the music to become your human connection for the night, he's got you covered. His songs are the type you can never quite believe you are hearing for the first time, and he made them for you. He wants you to sing, to dance, to call up an old friend when a line reminds you of their smile. Go ahead and swallow these tunes without salt. Let the truth burn and nourish you. And when Zephaniah tells you his tour van hit an alligator on the way to the show, believe him. 
"Simultaneously poignant and toe-tapping, this is the good stuff" -KNCE Radio 93.5 Taos, NM
"

No time is wasted with any of the songs. The music is straight to the point, concise and real. "
— Taos Tempo Magazine